UPAAA-NSW hosted its 7th Oblation Cup Golf Tournament for the benefit of its Scholarship Grant on Easter Monday, 6th of April at the Rosnay Golf Course in Auburn.
Danny Martinez of Marayong won the coveted Cup. Under the system 36 format, his net score was 65 for which he received the prize of $200, the overall champion trophy and elevated his name to a space on the perpetual trophy.  Other winners were: Grade A- Kit Sta. Barbara, Grade B- James Frazer and Grade C- Ric de Vera. The runners-up were: Grade A- Bernie Balagtas, Grade B- Alvin Rebulado and Grade C- Ramon Estoque.  Winners of the "nearest to the pin" on par 3s were: Arnie Santos, James Frazer, Romy Aquino, Joe Baduria, Joe Cura, Tony Vivero, Max Borromeo and Kit Sta. Barbara.  Max Borromeo and Joe Cura each donated their $25 prize to the Grant.  A total of 75 golfers participated in the fundraising event co-chaired by Engr. Ferdi and Dr. Cora Francisco.
So far, five UP scholars were successfully supported and graduated by the program since 2008. All of them are now well-employed in their own fields:  two in information technology (IT), and one each in teaching, agriculture and science research. Currently, two scholars are being supported at the UP Visayas in Tacloban, Leyte, the area most devastated by the typhoon Haiyan (Yolanda) in 2013.
The golf event was blessed with a perfect weather and a sumptuous BBQ buffet lunch prepared by the UP alumni.  It was supported by the following major sponsors: Ayala Land International Sales Inc, headed by Zara Apolinario, Reming Biala, Zignal Travels, Australian Institute of Commerce and Language (AICL), Jess Arranz and Jet Aserios.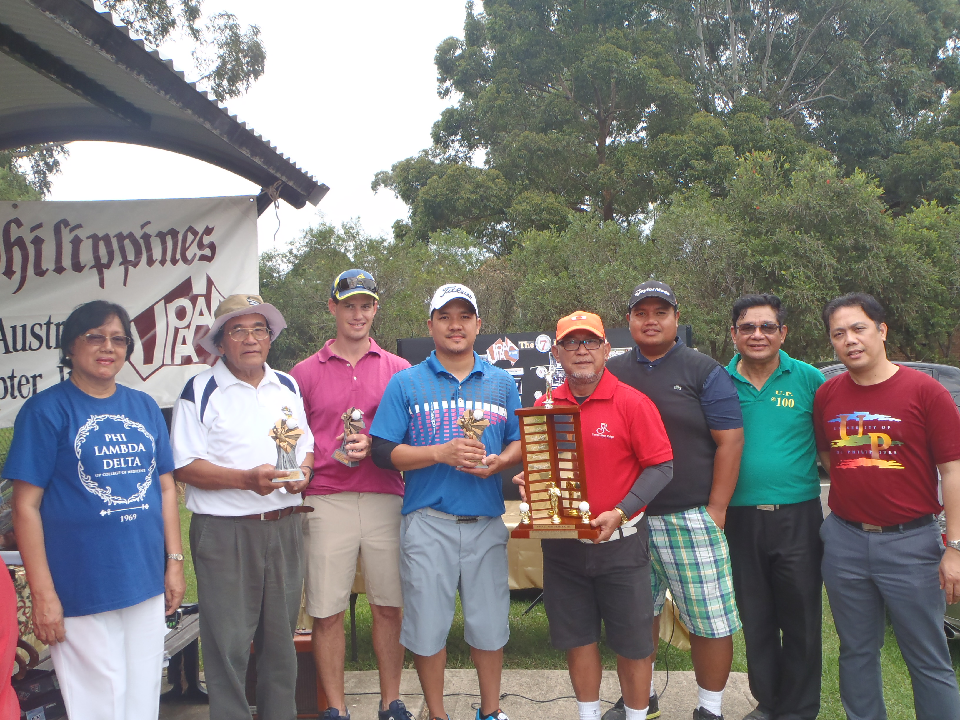 Photo: (L-R) Dr. Cora Francisco (Co-Chairperson), Ric de Vera (winner Grade C), James Frazer (winner Grade B), Keith Sta. Barbara (winner Grade A), Danny Martinez (overall champion), Alvin Rebulado (runner-up Grade B), Ferdi Francisco (Co-Chairperson) and Jet Aserios (UPAAA-NSW Chapter President). Not in photo; Bernie Balagtas (runner-up Grade A) and Ramon Estoque (runner-up Grade C). See our gallery for more photos.