7 March 2020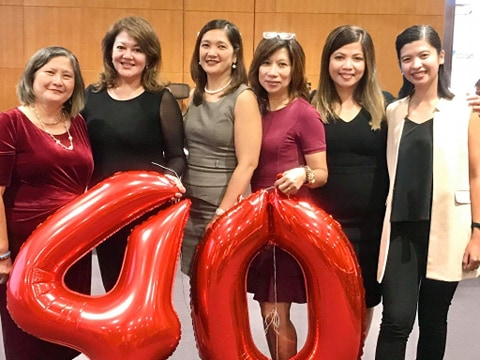 Six women from different UP campuses have been inducted as the new officers of the University of the Philippines Alumni Association of Australia – New South Wales Chapter (UPAAA-NSW) for the term 2020 to 2022.
Leading the pack is the new President, Tiffi Ramos, a BA Psychology graduate of UP Diliman. "It's an honor to lead UPAAA. This is indeed an exciting year for all the UP alumni here in Sydney and Canberra as we are celebrating our milestone 40th anniversary this 2020", said Ramos.
"The UPAAA is one of the longest-running Filipino associations in Australia. We are indeed a solid group, and we are calling on our fellow UP alumni to help us prepare for our 40th birthday celebrations in October —let's all make it one for the books!", added Ramos.
The rest of the newly inducted officers are:
External Vice President: Carmela Brion, UPLB – BS Economics (with Honors)
Internal Vice President: Cherry Dizon-Sy, UPD – BS Electronics & Comms Engineering
Secretary: Alice Bergonia, UPLB – BS Agriculture, MS Environmental Science
Treasurer: Mica Angelique Arellano, UPD – BS Chemistry (Cum Laude)
Internal Auditor: Lourdes Katague, UPD – BS Education
UPAAA-NSW 's regular guest of honor, Consul General Ezzedin Tago from the Philippine Consulate General in Sydney inducted the new officers and new members at the Max Webber Library Function Centre in Blacktown.
~~~~~~
Note: Due to the coronavirus pandemic, anniversary plans have changed. Stay tuned for announcements at www.facebook.com/UPAAANSW and upaaa-nsw.org.
---